The Lensbury host member exclusive question & answer session with the world famous All Blacks
We were lucky enough to have recently hosted an unforgettable evening at The Lensbury, as we welcomed rugby enthusiasts for a brilliant evening with the iconic All Blacks. We had received an unprecedented demand for tickets, not being able to accommodate all of our club members who were eager to attend despite our best efforts in almost doubling the initial capacity. The event promised an intimate Q&A session with influential figures in New Zealand rugby, offering a rare glimpse into the inner workings of the notoriously secretive team.
Stepping up to host the evening was Steve Hill, a well-respected figure in rugby circles as former director of rugby at Richmond Rugby Club and also a current member of The Lensbury. He was joined on stage by an esteemed panel made up of Darren Shand, the All Blacks team manager of almost 20 years; Greg Feeks, scrum coach & former All Blacks prop; and Dane Coles, the hugely celebrated Hurricanes & All Blacks hooker with over 80 caps to his name plus a World Cup winners medal to his name. Their combined expertise spans decades, promising a terrific insight into the sport and a team that has long been feared.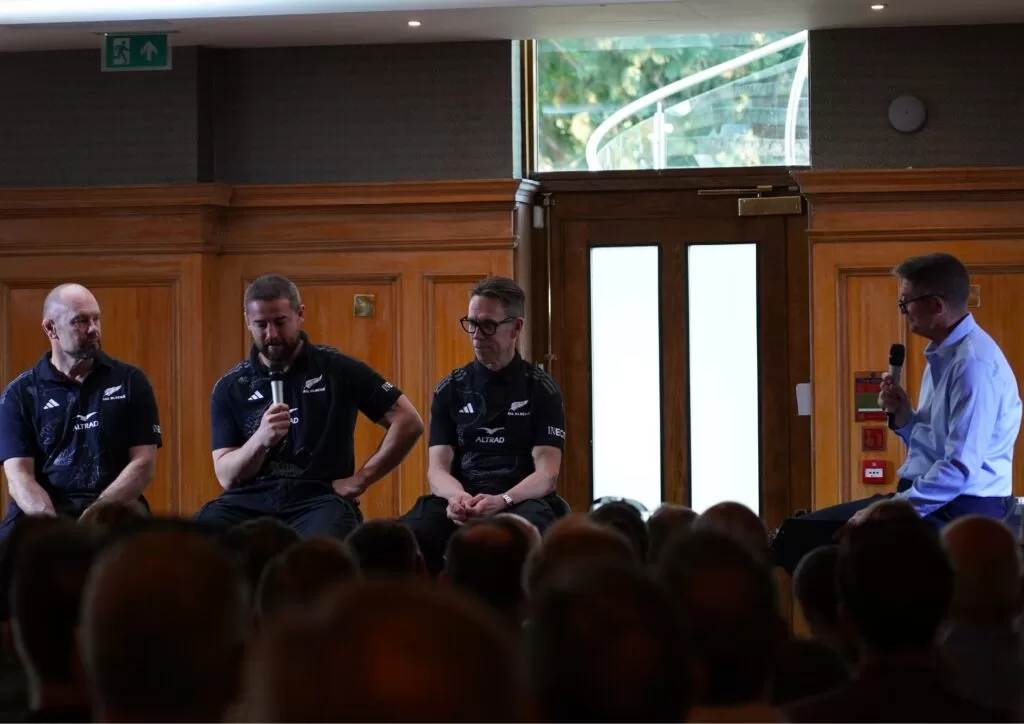 Greg Feeks, Dane Coles & Darren Shand discuss the All Blacks preparations with Steve Hill.
With the All Blacks' turnaround in form since last year (having not lost in their previous 11 games) and recent Rugby Championship success a hot topic, the audience was treated early on with discussion of the team's strategies, challenges, and triumphs from a variety of perspectives. The panelists shed light on the rigorous training regime, the great camaraderie in the camp despite experience gaps and the mindset required to consistently perform at the highest level.
One of the highlights of the evening was a recounting of past All Black tours, bringing to life some of the most memorable moments in rugby history. From the haka's spine-tingling impact to the intensity of facing formidable opponents on foreign soil, the stories painted a vivid picture of what it truly means to don the iconic jersey and what their upcoming match against South means with Darren stating 'This is not a friendly, there are no friendlies'.
As the conversation turned toward the impending Rugby World Cup, the members in attendance were treated to brilliant insights as to the meticulous preparations underway, the teams' aspirations and the determination to reclaim the title once again, having not lifted the Webb Ellis trophy since their back-to-back titles 8 years ago. For those in the audience, it was a glimpse into the dedication and passion that fueled the All Blacks' pursuit of excellence, as Dane discussed ending his illustrious international career on a high as he 'looks to ride off into the sunset' despite an individual enquiring as to whether he would be interested in playing rugby 7's next summer.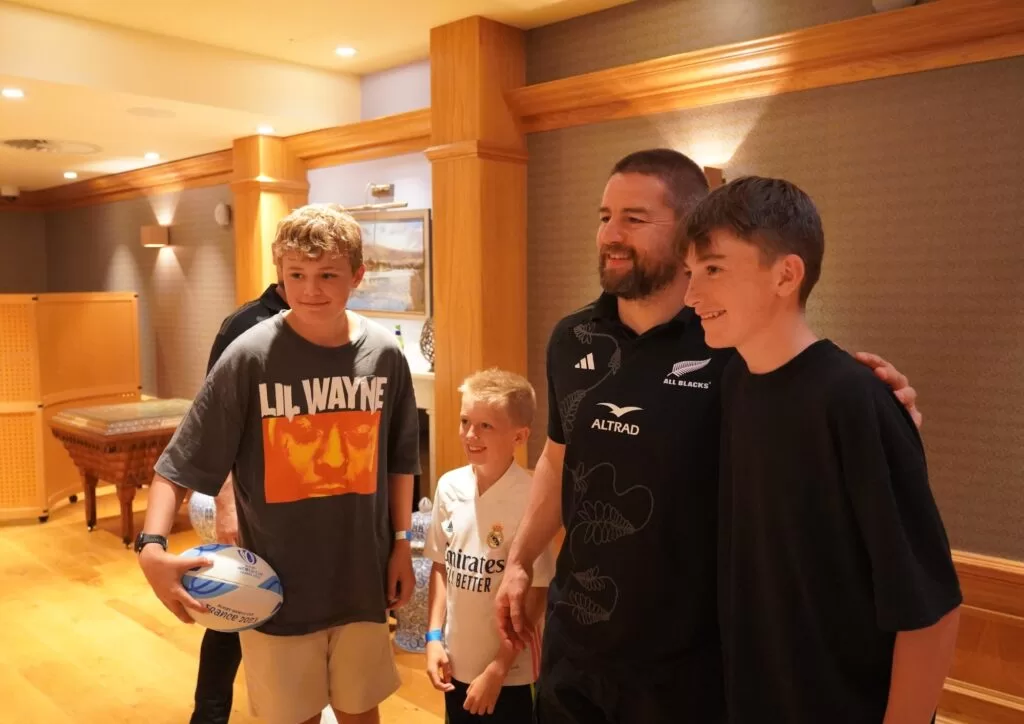 Dane Coles stops to take photos with excited Lensbury members following brilliant evening.
The insightful evening was certainly memorable for all those who were lucky enough to have attended and had set a high standard for any future sporting Q&As we look to host. Our desire to host such events came about as we look to continue in our commitment to sports enthusiasts, but also a promise of more riveting experiences for our members.
Be sure to join us at the club throughout September and October, as we show all 48 Rugby World Cup fixtures live. Enjoy our array of drinks and food options, whilst soaking in the atmosphere, along with our special mouthwatering World Cup menu offer to enjoy with friends and family.