The Benefits of Membership at The Lensbury
Join our leading leisure club
Whether you aim to get fit working-out in a state-of-the-art gym, love nothing better than relaxing in a sauna, or you simply enjoy spending quality time with the family, there are many benefits of joining us as a member here at The Lensbury Club.
Find out all of the benefits what you can get from being part of our exclusive Teddington leisure club on the banks of the Thames.
1. Workout in our state-0f-the-art gym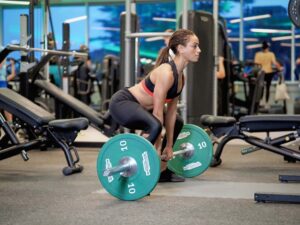 Working out is more enjoyable when it involves a visit to our new gym, which was fully refurbished in December 2019.
Start your morning by breaking a sweat using our latest Technogym equipment, or finish off your day with a motivating workout.
With our innovative equipment, working out has never been so entertaining. Watch YouTube, stream Netflix, or listen to music from our cardiovascular fitness equipment to keep you engaged and focused as you get your heart racing and your blood pumping.
Learn more about our gym here.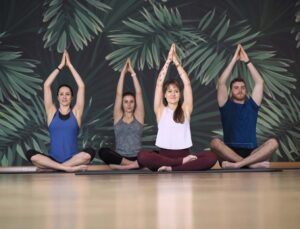 2. Attend our classes
Find your flow and head to one (or several) of our classes in our four studios. You'll certainly have plenty of choices – there are over 100 classes, so you're bound to find one that suits your skills and schedule.
Cycle in style in our cycling studios featuring award-winning IC7 bikes, reach your inner core with yoga and pilates in our holistic studio or get sweating with classes like HIIT or Zumba in our high-energy studio.
Discover our studios and classes here.
3. Swim and relax in our pool, sauna, and steam room
If you prefer working out in the water, plunge into our indoor pool and get those laps in. Afterwards, why not reward yourself with a blissful visit to our sauna and steam room?
Our pool facilities include two indoor heated pools, plus a thermal suite including a steam room and saunas. From structured lane swimming for those working out to fun inflatables for the kids, there's something to keep the whole family occupied.
Check out our swim timetable and learn more about our facilities here.
4. Take to our tennis courts
Tennis is a tradition at The Lensbury, stretching back over 100 years, and we'd love to invite you to join us for a game (or several!)
Whether you're a newbie, an expert, or are somewhere in between, as a member, you're welcome to play tennis and squash on our 22 courts at our club sessions.
Our courts include four clay, four artificial grass, eight floodlit macadam, and three floodlit mini courts so you can easily pick your favourite surface or mix it up.
Learn about tennis at The Lensbury here.
5. Refuel in our Clubhouse
Feeling a tad hungry?
After all that activity, you're bound to be a little peckish. Once you've finished exercising (or relaxing), make a beeline for our member's clubhouse and tuck into freshly prepared food and drink.
6. Take to the Thames
The Lensbury is located right by the River Thames, making it an ideal location for watersports. As a member, you can spend time on the river with our inclusive watersports activities.
Choose from our wide selection of boating options, including sculling boats, kayaks, canoes, and a selection of sailing dinghies from Optimists to Lasers and small motorboats. Plus, even the kids can get involved with our junior sailing and kayaking courses and boat hire opportunities.
As you travel down the river surrounded by beautiful greenery, you'll barely believe you're still in London.
See what suits you from our watersports programme here.

7. Indulge in an Elemis treatment
Sometimes all you really want to do is lie back, relax with a treatment, and forget the day's troubles. Here at The Lensbury Club, we have special Elemis treatment rooms, so you can do exactly that.
Our ELEMIS treatments include everything from hydrating facials to soothing hot stone massages, so peek at our long list of treatments and take some much-needed time for self-care.
It's time to relax.
8. Spend time with the family
On a family trip? Don't worry, here at The Lensbury Club there's something for everyone. We offer a wide range of activities and classes for all ages and interests.
Or perhaps you'd love some much-needed time away from the children? Here at The Lensbury, that's always an option too.
Keep the kids entertained during the summer holidays with our exciting, action-packed summer courses and camps. Or, for younger children from three months to six years, leave them with our qualified and expert staff members at our warm, inviting, and safe creche.
Discover our family facilities here.
8. Join our member events
If you're a social butterfly, you're in for a treat. Feel free to join our members' events and chat with family, friends, and other members.
Take a look at some of our social events here, with options for both adults and children.
If you need further convincing, we welcome you to visit The Lensbury Club for yourself.
Feel free to book a leisure club tour here to see our state-of-the-art facilities and discover all that is offered.