Our top 5 indoor group activities at The Lensbury
KEEP THE TEAM CONNECTED THIS WINTER
Looking for the perfect activity to strengthen your team's bond this year? With remote working now fully adopted into most workplace policies, there has never been a better time to get your team together!
Whether that's a newly formed, long-established or international team – participating in team building exercises boosts team spirit, morale and creates an all-round healthy work environment. Our stunning riverside resort offers a unique space for groups to get together and connect this winter so we have rounded up our top 5 indoor group activities to kick-off 2023…
1. Qubed
Immerse yourself into the visual and dramatic TV inspired teambuilding experience with the ultimate suspense game! Complete with gameshow lighting and an inflatable game arena, contestants work in teams to face a series of nail-biting challenges. Can you handle the pressure of the clock?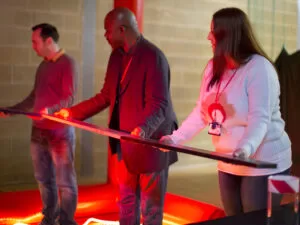 2. Apprentices
Our version of the highly successful BBC show 'The Apprentice' is specifically designed to test and bring out all the core business attributes in you and your group including, leadership, delegation, commercial awareness and team work. Who will face the firing line?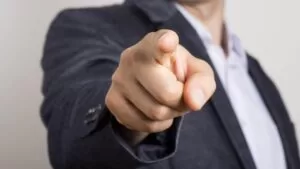 3. Master of the Tasks 
This hilarious game will challenge your teams with a selection of games that will quite literally bring them in stitches of laughter. Your comedic compare is your master of the tasks who will judge each round and allocate vital points. Open your challenge envelope to start. Game on.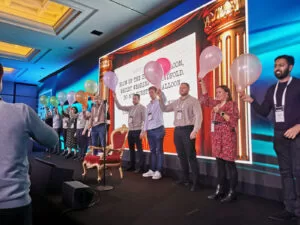 4. Challenge 100
Get ready for over 100 fun and interactive games carefully created to test your team's skills, creativity and teamwork. Each group will receive a challenge book divided into 5 zones, giving you the perfect opportunity to champion each player's strengths.
Sports | Creative | Sensory | Child's Play | Brain Busters
Score as many points as possible in the given time to be crowned the winners.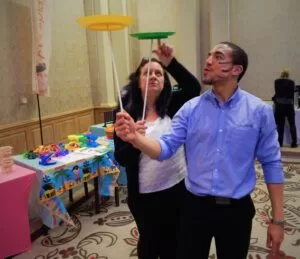 5. Wall Street Winners
Buy, sell, build. Make cash. Win. Put your team's business skills to the test with this Wolves of Wall Street inspired game that will get the teams negotiating deals, deducing strategies and forecasting the next market trend.
Our team building activities are delivered in partnership with an award-winning team building company, GOTO Events. Make an enquiry or for further information, get in touch with our team, here.