London's Riverside Resort
The best of both worlds – a family city break with a countryside base
Whether you are looking to take in the peace of the country or the sights of the capital for your summer staycation this year, The Lensbury offers you and your family the ideal base to have the best of both worlds.
Located in London's most desirable suburb (according to 2021 Sunday Times best places to live) Teddington, South West London, The Lensbury is set in 25 acres of grounds next to the River Thames. With extensive leisure facilities for the whole family to enjoy and conveniently located for both town and country, we have rounded up five things to do both in the city and in the country this summer…
1. Discover the new Children's Garden at Kew Gardens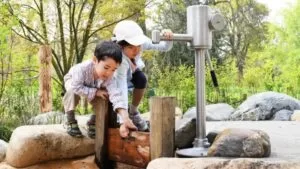 The Royal Botanical Gardens at Kew have unveiled an exciting new garden, especially designed for children from 2 to 12 years old –
and it is only 20 minutes away from The Lensbury.
Spanning an area the size of 40 tennis courts, children have plenty of natural landscape to explore, with four separate zones
designed to represent each of the elements and everything plants need to grow – earth, air, sun and water. The Royal Botanical Gardens is a haven for kids of all ages, with over 100 mature trees, adventures and playgrounds and a four-metre high canopy walk wrapped around a 200-year-old oak in the heart of the new Children's Garden.
For more information on The Royal Botanical Gardens and visiting hours, click here.
2. Take in the view at the new Marble Arch Hill viewpoint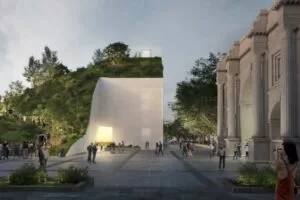 Discover London from a whole new point of view at Marble Arch Hill, opening in July 2021, less than an hour away from The Lensbury.
The new viewpoint attraction enables visitors to travel up to a maximum height of 25 metres (82 ft) using a winding wooden pathway up the hill's southern slope, allowing for unrivalled views of the area surrounding Marble Arch. Exhibitions and themed events will also be taking part in the hall inside the hill, all inspired by the local area.
More information can be found here.
3. Plan a day trip on the Thames
For those looking for an alternative way to take in the sights of Richmond and Teddington, a day on the River Thames is a must. The Lensbury Watersports Centre offers a variety of craft including sculling boats, kayaks, canoes and a choice of sailing dinghies from Optimists to Lasers, plus small motorboats for hire.
The Kruger motorboats are available to hire by the hour and are ideal day boats for families of up to seven people. Pack a picnic and enjoy the stunning views of Marble Hill House, Ham House or Hampton Court Palace from the River Thames. There are plenty of restaurants, ice cream stands and coffee shops to keep everyone happy along the way. Discover The Lensbury's boating facilities here.
4. Feed your curiosity at Wonderlab at The Science Museum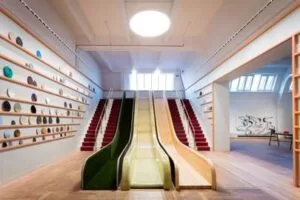 The Science Museum's Wonderlab, which is just a 30-minute drive from The Lensbury, offers children (and adults) the opportunity to try their hand at over 50 science experiments, from speeding down the friction slides to see which is faster, or testing the aerodynamism of handmade paper planes. There are many daily shows and speeches on how rockets, electricity and explosions work, and there's even a Shake Bar with made-to-order ice cream milkshakes or design-your-own ice cream tubs with a choice of your own flavours and toppings.
Click here for more details.
5. Immerse yourself in the beauty of Bushy Park
A natural wonder located north of Hampton Court Palace and less than two miles from The Lensbury, Bushy Park comprises of over 1,000 acres of parkland and is steeped in 4,000 years of history.
One of London's eight Royal Parks and the second largest, Bushy Park is home to free-roaming Red and Fallow Deer, a long list of birds, such as three native woodpeckers, kestrel and tawny owl, as well as perch, roach, chub, bream and rudd within its ponds and streams.
Grab your walking shoes, binoculars and picnic blankets and head to Bushy Park for a fun-filled family day in the great outdoors.
If you are interested in booking your summer staycation here with us at The Lensbury, please click here for more our offers and availability.