Victorious Lionesses at The Lensbury
UEFA EURO 2022 Champions
Following a triumphant tournament, the Lionesses have made the nation proud, reigning victory over Germany to win the UEFA Women's EURO 2022 competition.
Sarina Wiegman and the team faced the world's best throughout the Euro 2022 campaign, defeating tournament favourites Spain and Sweden, alongside a record-breaking 8 – 0 victory over Norway. The Lionesses came face to face last night with Germany in front of 87,192 fans. After a 90 minute period of end-to-end football, the match pushed on into extra time where Chloe Kelly secured the winner with 10 minutes to spare.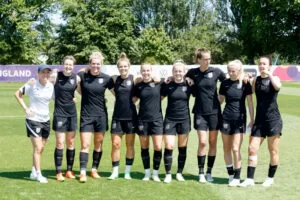 TEDDINGTON, ENGLAND – The Lionesses on the training pitch at their base camp for Euro 2022, The Lensbury. (Photo by Lynne Cameron – The FA)
Upon their return, the Lionesses ended their stay by celebrating a well-earned victory in jubilant fashion hosted by The Lensbury, ensuring they enjoyed their historic win in style.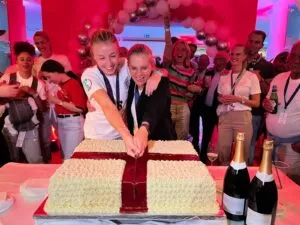 TEDDINGTON, ENGLAND – The Lionesses celebrating their victory, The Lensbury.
The Lensbury has had the pleasure of serving as their basecamp this summer, as they made use of our UEFA standard pitches, state-of-the-art elite gym, stunning grounds and a splash of watersports. Speaking about their basecamp stay, Wiegman said, "We have received a warm welcome from the staff and have been impressed by the facilities and accommodation. It is important that our tournament base is a home from home for the squad and support team."
The state-of-the-art facilities are designed to allow both elite sports teams and individuals to reach their potential. The Lensbury has a rich sporting heritage having hosted international rugby teams, tennis stars, Olympic athletes and most recently the Lionesses during their successful Euro 2022 campaign!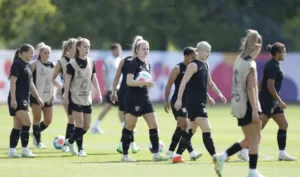 TEDDINGTON, ENGLAND – The Lionesses on the training pitch at their base camp for Euro 2022, The Lensbury. (Photo by Nicholas Dillon)
Speaking following the recent Lionesses basecamp stay, Managing Director, Claire Llewellin-Davis said, "The team and I couldn't be prouder to have hosted the Lionesses this summer and to have played a small part in what has been an unbelievable summer for English sport! The team's performance both on and off the pitch has been an inspiration to us all and we are all delighted to see the long overdue rise and support of women's football in this country." Claire continues, "The Lensbury has played host to many elite sports teams over the years, including women's rugby and football teams. Here at The Lensbury we are all looking forward to continuing to champion and support women's sport in the months and years ahead, and to continuing to build on the incredible legacy left by the Lionesses' victory."
I'm sure you will join The Lensbury team in congratulating The Lionesses for their hard-earned victory and thanking them for giving us a summer to remember.