Discover Yoga at The Lensbury
Thursday 29th September – Sunday 2nd October 2022
The word yoga is derived from the Sanskrit root 'Yuj', which means "to join, to unite". It is an ancient practice and form of meditation, and has become increasingly popular in today's busy society, providing a retreat from busy lives and, recently, lockdown woes.
Yoga develops inner awareness, focusing your attention on your body's abilities in the present moment – the combination of the practice and meditation creates a healthy mind in a healthy body, and contrary to what you might think, offers levels suitable for everyone!
"Regardless of your level of ability, if you're practicing regularly, you will feel better from head to toe," says Leon Williams, Fitness and Studio Manager and part of the team who's put together a brand-new Yoga Retreat which will take place between Thursday 29th September – Sunday 2nd October 2022. "Yoga offers physical and mental health benefits for people of all ages, and it's never too late to start!"
The dedicated team at The Lensbury has put together a three-day Yoga Retreat – a first for the resort. The yoga retreat package, includes three-nights' accommodation at the hotel, as well as five yoga sessions, a guided meditation session and healthy food and drinks. Escape to The Lensbury for one of the specially curated escapes this autumn.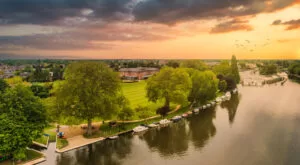 Riverside setting
"We have 25-acres of beautiful gardens right on the banks of The River Thames," says Leon. "Located close to London, we have so many wonderful spaces where groups of friends and family can come together to recuperate, reunite and enjoy some luxurious pampering for their wellbeing. It really does feel like a sanctuary! If the weather permits, our sessions will be held outdoors, overlooking the flowing river. It will be truly spectacular and transformational for anyone who gets the chance to enjoy it."
The new Yoga Retreat offers you the chance to try five different types of yoga with the expert guidance from The Lensbury team of instructors.
Restorative Yoga
Restorative Yoga is a restful practice that is all about slowing down and opening your body through passive stretching. It is about embracing the power of rest and slowing down the mind, holding the yoga poses (asanas) for longer. Stillness is a powerful practice in its own right.
Uplifting and Energising Yoga
Yoga to boost energy! Yoga can be a natural energy booster, working to release areas of blocked energy along your spine. Active poses (asanas) that stimulate the blood flow through the body can help combat fatigue and help counter some of the effects of sitting for long periods of time.
Dynamic Flow Yoga
This energising power yoga class is based on the principles of Ashtanga Yoga. It provides a rigorous full-body workout and promotes mental stability and concentration. Perfect for building stamina, strength and flexibility.
Sunset Flow Yoga
This creative yoga class focuses on sequencing with an emphasis on moving with fluidity, designed to acclimate your body and soul to the setting sun.
Vinyasa Flow Yoga
Vinyasa is a style of yoga characterised by stringing postures together so that you move from one to another, seamlessly, using breath. This flow offers strength, flexibility, concentration and breath work, bringing your practice to a close with shavasana (meditation).
"This is more than just a weekend break," continues Leon. "This is a retreat in the truest sense of the word – a getaway, a haven, and an opportunity to recalibrate the mind and the body. It is the type of weekend we could all benefit from after a busy summer – a chance to escape."
From £420 per person, per break our yoga retreat includes:
Three nights' accommodation in your choice of room arriving on Friday
5 yoga sessions including – 60-minute restorative yoga, 60-minute uplifting and energising yoga, 60-minute sunset yoga flow, 60-minute dynamic flow yoga and 60-minute Vinyasa flow (all sessions will take place in our studio or in our riverside grounds)
90-minute guided meditation
Full English or continental breakfast each morning
Price is based on two adults sharing a Classic Double or Twin Bedroom. Selected dates include Thursday 29th September – Sunday 2nd October 2022.